The Unfortunate Adventures of Rox Willful (2016)
This is an Unreal 4 game made with a team of 10. It started as our final project at NAD and is slowly being wrapped up in our spare time.
Rox Willful is a sci-fi point-and-click game exploring post-war themes with quirky humor. The player has to resolve conflicts through dialogue, trading and minigames.
It got Greenlit on Steam, but development is on indefinite hold.
My tasks:
Narrative design, Game design, Puzzle and minigame design, scripting, character modeling, trailer
Goals:
Work with the writer to plan and tell a story through non-linear series of events.
Create puzzles and interactions that fit within the overarching story.
Keep the player involved and surprised despite our limited resources.
Video reflects the work of the entire team.
Narrative design
We had an award winning writer on our team to help us write dialogues and important plot points. His closest relevant experience was writing for movies, so I was in charge of figuring out a pipeline that would work for this type of game. I had regular meetings with him so we could come up with a story that made sense to play, with dialogue choices and some non-linearity.
Below is the format I ended up making to keep everything organized. It is a flowchart visually representing all the possibilities of dialogues and interactions. Whenever I had to change elements of the scenario, it let me easily verify if everything still worked. I would then communicate the coordinates of the changes to the programmer and the writer.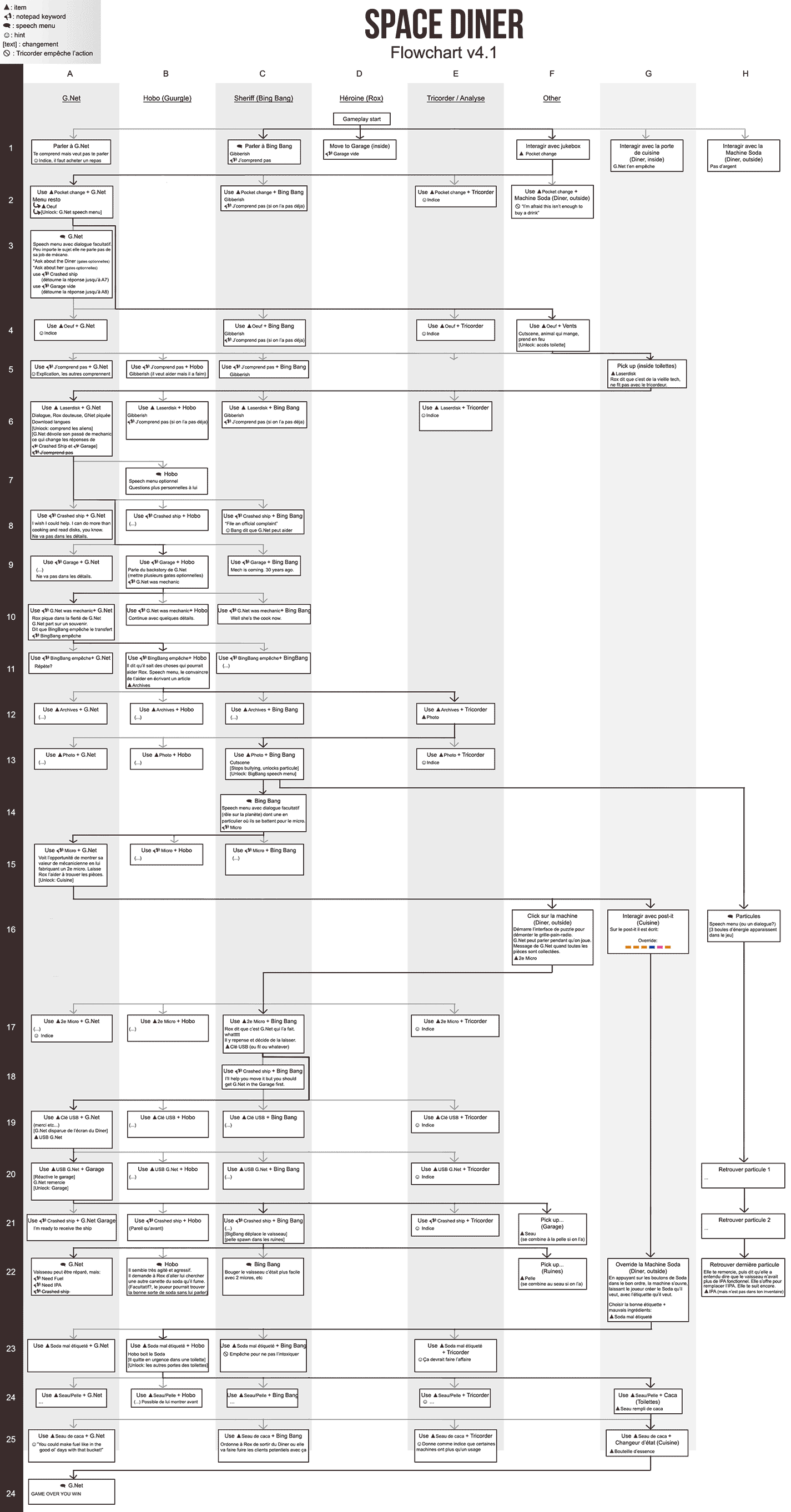 Black lines are mandatory player actions in order to clear the game (critical path). Grey lines are optional interactions.
The start of the game allows for exploration and most actions result in progression, but only one will lead to a series of linear events.
Optional interactions are used to guide the player on the right path or builds the backstory of the world and characters, which helps immersion and can be useful later.
Towards the middle of the game, the critical path splits in 3 that can be accomplished in any order.
The ending wraps up all 3 paths into one ending, that differs depending on certain actions with the characters.
The writer wrote the full dialogue in a separate document for each possibility using the coordinates from this chart. Those coordinates are also used in the game's code to make it easier to update.
The minigames
I was also in charge of coming up with minigames to spice up the gameplay between dialogue sections. They had to fit the theme and not be too difficult since they are mandatory. I designed and scripted 3 minigames:
Tear apart a toaster/radio hybrid to get a specific piece.
Pinball machine where the ball itself is the object you need to retreive, by using the Free Play mode and breaking the machine.
Pipe machine where you have to purify a dirty liquid and then collect it.